From New York Times Bestseller Mimi Jean Pamfiloff comes BRUTUS, a Paranormal Romantic Comedy that will surely cause evil vampires to kidnap the author.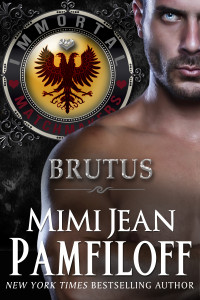 Can the World's Toughest Immortal Warrior Win the Heart of the World's Toughest Immortal Woman?
Brutus is not your average immortal warrior. He leads the gods' army, he's tough as nails, and his mind is so powerful, he no longer speaks to communicate with his men. Some call him telepathic; he just calls it being a badass. But despite the many bloody battles and hard-won victories, this is one mission he's not so sure about. There is a plague sweeping the immortal world. Gods, vampires, incubi—no one is safe, except for those with mates, and sadly, there just aren't enough women to go around. To keep the gods' army intact, ready to protect the human world, Brutus must convince a group of ancient female warriors, located deep in the Amazon jungle, to return home with him, and…well…go on dates with his men. But when the toughest, meanest, man-hating, sexiest woman of the group catches his eye, all he can think about is conquering her heart.
WARNING: This book contains a smokin' hot immortal warrior looking for his forever love, a randy invisible unicorn, and bad, bad, such bad language. Okay, and some sex. Fine, yes! Lots of sex! And a kitten, a bit of violence, a man who loves knitting, mannibalism, unruly deities, Mayan priests who babysit animals, a naked goddess who wears a bee bikini, leather pants (for men), a very randy ghost who's desperate for her HEA, anecdotes about evil mermen, a BIG plot twist even the author didn't see coming, and a ton of romancy kind of stuff.
BUY LINKS
Amazon US | Amazon UK | Amazon CA | Amazon AU NOOK| APPLE BOOKS | KOBO
Other books in the series
IMMORTAL MATCHMAKERS, INC.
●Amazon:
http://smarturl.it/3qyto3
●Kobo: http://bit.ly/1V354PR ●Nook: http://bit.ly/1JKdY2P ●Apple Books: http://apple.co/1Jq3i2X ●Google Play: https://bit.ly/31b37fc
TOMMASO
●Amazon:
https://smarturl.it/y01o54
●Kobo: https://bit.ly/319nRUP ●Nook: http://bit.ly/1WrUJ3E ●Apple Books: https://apple.co/3aHSyU0 ●Google Play: https://bit.ly/2Ygp36N
GOD OF WINE FREE when you sign up to my Newsletter
Sign up here
➡️
http://bit.ly/26YeeDV
●Amazon:
https://smarturl.it/e7t272
●Kobo: https://goo.gl/y6YUBV ●Nook: https://goo.gl/2Z6kRB ●Apple Books: http://apple.co/1TdfNH7 ●Google Play: https://bit.ly/2FFkvAF
GODDESS OF FORGETFULNESS
●Amazon:
http://smarturl.it/m7welr
●Kobo: https://goo.gl/cbzCQ9 ●Nook: https://goo.gl/bDyLei ●Apple Books: https://goo.gl/CCTZwA ●Google Play: https://bit.ly/3hfm6uN
COLEL for

#

99cents

!
●Amazon: https://smarturl.it/colel ●Kobo: https://bit.ly/2QlG1g1 ●Nook: https://bit.ly/3iPXSro ●Apple Books: https://apple.co/34iHr2O ●Google Play: https://bit.ly/34aA4um
About the Author
MIMI JEAN PAMFILOFF is a New York Times bestselling author who's sold over one million books around the world. Although she obtained her MBA and worked for more than fifteen years in the corporate world, she believes that it's never too late to come out of the romance closet and follow your dreams. Mimi lives with her Latin lover hubby, two pirates-in-training (their boys), and their three spunky dragons (really, just very tiny dogs with big attitudes) Snowy, Mini, and Mack, in the vampire-unfriendly state of Arizona. She hopes to make you laugh when you need it most and continues to pray daily that leather pants will make a big comeback for men.
Sign up for Mimi's mailing list for giveaways and new release news!
=====
MY REVIEW:
The Immortal Matchmakers, Inc. journey continues!
The latest installment from the Immortals' saga is overflowing with drama, chaos, sass, and sexiness. Book 6 features Brutus, one of the hottest of the immortal soldiers in service to the Gods, and is yet another 5-star read from Mimi Jean Pamfiloff. Her books have become an automatic 1-click for me, and across all the different genres she brings us, I have yet to be disappointed. The Immortal Matchmakers, Inc. - Book 1 (Andrus) was actually my VERY first Mimi Jean book! After Andrus I went back to devour all the Accidentally books, and now I'm pretty sure I own her complete works. #sorrynotsorry
We see nearly EVERYONE from the Immortal Matchmakers world make an appearance throughout this book, which I just loved. That check in to see what they're all up to after we've absorbed their stories earlier in the series is such a treat! In my opinion, this series is best read in order, because there is a LOT (of amazingness) going on. Mimi Jean's world building is fantastically fun!
If you enjoy hilariously sassy wit, adventure, steamy romance - and a serving of extra chaos and crazy courtesy of the Goddess of the Underworld, then you absolutely need this book. I received an ARC in exchange for an honest review. However, I've purchased MANY of Mimi Jean's books in the past, and would have happily 1-clicked this one!
My general rating rationale:
3 – Perfectly fine story, perhaps some minor editorial errors. Entertaining. Typically with this rating I feel like there could have been MORE – be it believably/relatability, character development, internal dialogue, explanations or depth, richness to the overall storyline, etc. May lose a bit of engagement here and there but always finish reading.
4 – A very good book. Engaging, with well-developed characters, a great plot, relatable scenarios; keeps you invested to the last page. Would recommend to reader friends.
5 – Can't say enough amazing things, loved the characters, fabulously detailed plot, a quick hook, intense investment in both story and characters (including supporting characters) throughout the book. Will tell anyone who will listen that they should read it (if they won't listen, I'll be louder).