My Pen Is Huge
The OHellNo Series Book #5
Love LOVED it– the series just keeps getting better!
Laugh out loud funny at every turn, up and coming investigative reporter Giselle has landed an amazing internship with her idol, Leland Merrick. She shows up on her first day, and to say that Leland is nothing like she expected is the understatement of the century! Leland is a mysterious, arrogant, and gorgeous man with a lot of secrets and a code all his own. Giselle is strong-willed, independent, and fearless. She's determined to forge her path with or without help from her infuriating boss-turned-nemesis.
This book presents viewpoints from both characters, and they are true to themselves in conversation with each other, ancillary characters, and themselves. I love it! Giselle's thoughts are hilarious, and she comes across as smart, feisty, and determined...but still young/inexperienced (life-wise) to be believable. Leland has a British stiff-lip even in his own mind – PERFECT!
They fight their attraction and flaunt their differences at every turn, but they break down each other's walls (in the most hilariously spectacular ways) to get to their HEA.
This is a stand-alone book with NO cliffhanger. There are passing references to characters from other books in the series but you don't need to have read them to read this book (but really, you should because they are all excellent and very, very funny).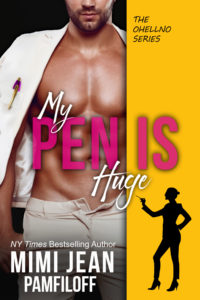 From New York Times Bestseller Mimi Jean Pamfiloff, Comes a Saucy Minx of a Book, MY PEN IS HUGE. (OHellNo #5 - Standalone.)
And since you're obsessed with your stupid pen collection, I thought it appropriate to take the big one you love so much and write my resignation letter. Kiss your pen goodbye, big man!
Because when I agreed to work for you—a hotshot journalist I've admired for years—no one told me that you had a secret life and that you'd bug my apartment, have someone killed, and make the moves on me just to test whether I'm serious about this job.
I mean, come on! What kind of boss does that? Yes, you're ten degrees hotter than the sun, and you melt panties everywhere you go, but this "little intern" is done with your games.
From this day forward, consider me your mortal enemy, your biggest threat. Maybe your pen is huge, but my determination is bigger. See you on the battlefield, Mr. Big Pen.
---
Looking for BOOK #1? It's FREE